Main content starts here.
Updated date:March 1, 2019
Implementation of Private Vehicle Regulations
During the climbing season in summer, private vehicle regulations are implemented along Fujisan Skyline (Fujinomiya entrance), Fuji Azami Line (Subashiri entrance), and Fuji Subaru Line (Yoshida entrance) by the prefectures of Yamanashi and Shizuoka, and all related cities, towns, and villages. Such regulations are in place to maintain the safe, comfortable, and uncongested flow of traffic for visitors, and to preserve the environment of Fujisan.
The period of effectivity of the regulations will be gradually expanded to alleviate traffic congestion.
2011

2012

2013

2014

2015

2016

2017

2018

Fujisan Sky Line

(Fujinomiyaguchi)

26 ays

34Days

52Days

63Days

63Days

64Days

63Days

63Days

Fuji Azami Line

(Subashiriguchi)

26Days

34Days

37Days

40Days

47Days

63Days

63Days

63Days

Fuji Subaru Line

(Yoshidaguchi)

15Days

15Days

31Days

53Days

53Days

53Days

63Days

63Days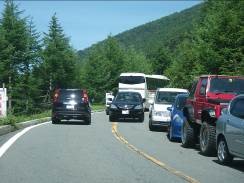 <Before Implementation>
Instance of parallel parking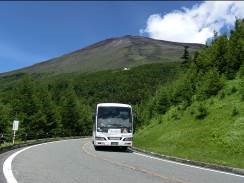 <After Implementation>
Parallel parking eliminated